Equipment Malfunctions Attorney in Philadelphia, Pennsylvania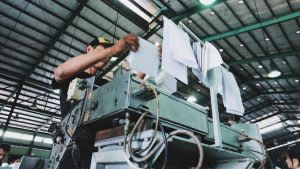 The manufacturing industry is often heavily reliant on heavy machinery to get the job done, but that same machinery has the potential to do great harm to its workforce. Equipment accidents prove fatal for some American workers every year, but life is rarely the same for those who are lucky enough to survive these types of workplace accidents. Amputations, burns, and broken bones are all commonly associated with equipment-related accidents and machine accidents. These injuries can be catastrophic and render an employee unable to return to work for weeks, months, or even years. For a free case evaluation, contact our Pennsylvania workers' compensation lawyers handling machine accidents.
Workers' Compensation Benefits Provide Relief To Employees Injured Due To Equipment Accidents
Depending on the unique circumstances of an equipment malfunction at work, third party liability by an equipment manufacturer can occasionally be established. Prevailing on such a claim is time-consuming and far from certain, however. When employees need a speedier, more straightforward path to bridging the financial gap between recuperation and their eventual return to work, a Workers' Compensation claim can prove beneficial.
The Workers' Compensation benefits system operates under a no-fault standard, rendering an inquest into responsibility for an equipment malfunction unnecessary. Accordingly, Philadelphia Workers' Compensation lawyers note, when a machine was being used improperly by an employee, that same employee cannot later be blamed for their injuries and denied benefits. Conversely, when an employee is operating a machine as it was intended but the machine unexpectedly and inexplicably malfunctions, the employer's Workers Compensation benefits plan must provide the employee with partial pay until they receive medical clearance to resume their normal job duties.
Employees Must Document the Circumstances Surrounding an Equipment Malfunction
Following an equipment malfunction, an injured employee must immediately alert their supervisor to what has happened. Additionally, an injured employee should make note of whether the workplace accident was witnessed by any coworkers as well as whether the equipment has malfunctioned before. A Pennsylvania Workers' Compensation claim is then formally initiated by an employer. Injured employees should keep all scheduled medical appointments and compile any supporting documentation requested by an insurer.
When an equipment malfunction proves fatal, surviving family members may still choose to pursue a wrongful death lawsuit against the equipment manufacturer. Additionally, a grievously injured employee can seek longer-term medical care, compensation for their pain and suffering, and enhanced damages through a third-party liability claim. Importantly, those same employees can – and should – initiate a concurrent claim for Workers' Compensation benefits. However, if an employee or their family should later prevail on a third-party liability claim they may be forced to reimburse their insurer for any Workers' Compensation benefits received.
Employees should not be misled into believing that they are only at risk of being injured by an equipment malfunction if they work with heavy machinery. Equipment malfunctions pose a risk to all employees, not only those working in the manufacturing industry. An office-based employee can be electrocuted by a malfunctioning fax machine just as a dishwasher can be scalded by an improperly calibrated water heater. Any employee who works with equipment of any kind can be injured by any type of malfunction.
Philadelphia Workers' Compensation Lawyers at Borjeson Legal Group Represent Victims of Equipment Malfunctions
Nearly all employees are eligible to receive Workers' Compensation benefits when they have been injured on the job. Such compensation is available regardless of whether an accident results from a worker's own negligence or circumstances beyond their control, such as an equipment malfunction. Philadelphia Workers' Compensation lawyers at Borjeson Legal Group understand that the filing of a Workers' Compensation claim can seem daunting. We will aggressively pursue benefits on your behalf. With offices conveniently located in Center City Philadelphia, we represent clients throughout the region. Call or contact us online to schedule a confidential consultation today.