Construction Accidents Attorney in Philadelphia, Pennsylvania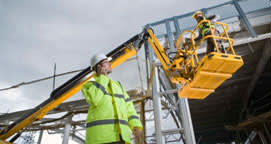 There are few industries more dangerous for workers than construction. According to the Occupational Safety and Health Administration (OSHA), accidents on construction sites in 2014 caused hundreds of thousands of injuries – 874 of which were fatal. When a construction worker is injured on the job they can pursue Workers' Compensation benefits during their recovery. The award of such benefits will often be closely contested by insurers and employers, however. Do not face your injury claim alone. Let our Philadelphia construction accident lawyers help you.
Construction Accidents & PA Work Comp Laws
Because the Workers' Compensation claims process can be complex, requiring the compilation of extensive documentation of injuries and adherence to strict timelines, it is imperative that an injured employee carefully and methodically make their case for entitlement to benefits. Depending on the nature and severity of an injury, some employees may be unaware of – or unable to adhere to – the requirements. A Philadelphia Workers' Compensation lawyer can help. By working closely with clients, treating physicians, employers, and their insurers, a qualified Pennsylvania Workers' Compensation Attorney can ensure that adequate benefits are paid, in a timely fashion.
Certain Injuries, Accidents are Common Within the Construction Industry
Construction accidents run the gamut from minor to life-threatening, but according to OSHA, fatal construction accidents often take the form of the "fatal four" – falls, electrocution, being struck by an object, or being crushed between two objects. Any one of these dangers can cause lesser injuries that make work impossible. In addition, numerous other hazards exist on a construction site beyond the fatal four, including malfunctioning equipment, overexertion, slip and fall accidents, work-related vehicle accidents, and exposure to harmful chemicals or toxins. To that end, Philadelphia Workers' Compensation lawyers note that certain injuries are frequently sustained by construction workers. Broken bones, head trauma, lacerations, amputations, and respiratory disorders commonly result from construction accidents.
Construction Workers Must Pay Close Attention to Deadlines, Documentation Demands
It is imperative that workers immediately begin laying the groundwork for their entitlement to Workers' Compensation benefits once a construction accident occurs. Although Pennsylvania workers have up to three years to file a claim, they must notify their employer within 120 days that they have become injured on the job. Pennsylvania's Workers' Compensation Law mandates that absent such notification, an employee is barred from later seeking Workers' Compensation.
After an employer has been notified of an injury, workers must submit an authorization for medical records and an employee verification of employment form. These documents allow insurers to access an injured employee's medical records and ascertain that an employee is in fact covered for Workers' Compensation benefits. The employee verification form must be signed and returned within 30 days of receipt.
Once a Workers' Compensation claim is being paid – covering ongoing and past medical expenses, as well as a portion of lost pay while an employee recuperates – an insurer will periodically send additional paperwork that must be completed to continue the flow of benefits. When asked to sign a supplemental agreement or a final receipt, however, it is best to consult with a skilled Philadelphia Workers' Compensation lawyer. Both forms usually are an indicator that an insurer believes an employee injured in a construction accident is physically capable of returning to their job. If a worker disagrees with that assessment, they should seek legal representation.
Philadelphia Workers' Compensation Lawyers at Borjeson Legal Group Represent Injured Construction Workers
Because of the intense physical demands construction workers face, it is often unlikely that a swift return to work is feasible for most following a construction accident. Workers in the construction industry need ample time to rest in order to heal fully from their injuries, time which can be provided with a successful Workers' Compensation claim. Philadelphia Workers' Compensation lawyers at Borjeson Legal Group can help you obtain Workers' Compensation benefits. With offices conveniently located in Center City, Philadelphia, we represent clients throughout the region. Call or contact us online to schedule a confidential consultation today.
Pennsylvania Vicarious Liability Attorneys
Vicarious liability is a tort doctrine that imposes liability on a person for someone else's actions. It imputes the wrongful conduct of a tortfeasor to a third party who is considered to be responsible for the tortfeasor's actions. The third-party liability arises out of a special relationship commonly referred to as the principal-agent (example: employer-employee, parent-children, joint venture). Read on to learn more about Pennsylvania's third-party liability laws and how we can help you file a PA workers' comp claim against a tortfeasor for your injury.
Workers' Compensation Third Party Liability Laws in PA
An employer may be responsible for their employee's injury under the doctrine of respondeat superior. Respondeat superior means "let the master answer." Under this legal doctrine, an employer is held responsible for the actions of employees performed within the course of employment.
Curtis is assigned to operate a forklift during his late-night shift at the local sporting goods warehouse. Curtis accidentally runs over Berkley's foot with the forklift while backing up to pick up a haul of boxes. Berkley can file a workers' compensation claim against her employer who can be held vicariously liable for the injury.
Joseph works for a local delivery company. His boss Curtis asked him to deliver a truck full of hazardous material to a local government agency for processing. While driving to the agency, Joseph makes a stop to fill up the truck with gasoline. He is struck by Vivian's car when crossing the parking lot. He suffers a broken arm and bruised ribs. Joseph can file a claim against his employer because he was hurt during the scope of his employment.
PA Personal Injury Vicarious Liability Statutes
Personal injury vicarious liability claims usually arise in parent-child relationship scenarios. Under common law, parents are not usually liable for their child's torts due to the parent-child relationship. Liability usually arises under the following circumstances:
The child's negligent actions were committed during the scope of employment while working for his/her parent;

The child's negligent actions were committed during a joint venture with his/her parents;

The child's negligent actions were committed as the parent's agent while carrying out a mission on their behalf; or

The child negligently drove his/her parent's automobile with their consent.
If one of the above scenarios occur, the plaintiff can file suit against the child and parents.
Auto Accident Vicarious Liability
A person can be responsible for a car accident injury even if he/she was not in the car under the legal doctrine of vicarious liability. For example, if an employee runs a red light and hits another car while driving the company vehicle during work hours, the employer may be responsible for damages caused by the employee's negligent conduct. The key here is to look at the relationship the parties have between each other to see if a principal-agent relationship exists. If it is present, the principal can be held liable for the acts of his/her agent.
Sue asked her parents to drive their brand new Porsche to prom. Her parents agreed. Sue picked up her friend Jane on the way to prom. As Sue was entering the freeway, she lost control of the vehicle and struck the car beside her. Jane suffered injuries as well as the other driver. The driver and Jane both sued Sue's parents for damages as a result of Sue's negligence under the doctrine of vicarious liability.
Hire Our Philadelphia Construction Accident Lawyers
Do not wait to contact our Philadelphia, Pennsylvania workers' comp attorneys for a free case analysis. regarding your personal injury claim. Our Philly workers' comp attorneys will gather facts regarding your case and provide you with guidance on how to best proceed.