Pennsylvania Disfigurement Benefits
July 10, 2020
Workplace injuries that result in scars or other disfigurements can be devastating to workers and their families. Loss of limbs, burns, scalds, lacerations and other skin injuries are examples of disfiguring injuries. Scarring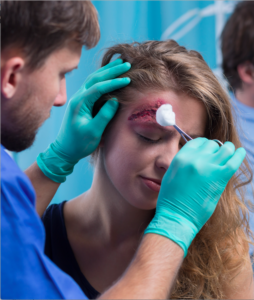 injuries often remain after a wound heals and may look significantly different than the skin surrounding it. Physical consequences can include pain, impaired movement and loss of limb function. In addition to the impact a scar or disfigurement might have on an employee's ability to work, there often is an emotional and social toll as well. Victims often suffer from depression and poor self esteem. Extensive medical treatment may be required including plastic surgery, skin grafts, surgical removal of scar tissue, physical therapy, prosthesis and reconstructive surgery. If you have suffered a workplace or on the job injury contact our Pennsylvania workers' comp lawyers helping scarred workers get the Pennsylvania disfigurement benefits they are entitled to.
Scarring and disfigurement injuries can occur as a result of:
Burns

Chemical spills

Explosion

Fires

Motor vehicle accidents
At E.S. Borjeson & Associates, our Philadelphia Workers' Compensation lawyers understand the suffering our clients endure. We do everything in our power to ensure they are fully compensated for their injuries. This includes obtaining Pennsylvania disfigurement benefits. With more than 25 years of experience and extensive knowledge of Pennsylvania Workers' Compensation law, we are formidable advocates for the injured.
When You Need a Workers' Comp Lawyer Handling Pennsylvania Disfigurement Benefits
Dealing with a scar or disfigurement is a lifetime battle. Count on a Philadelphia Workers' Compensation lawyer at E.S. Borjeson & Associates to handle your claim and provide peace of mind. We offer a no-risk, free consultation. You can contact us online or call our Centery City, Philadelphia law offices. We can help.